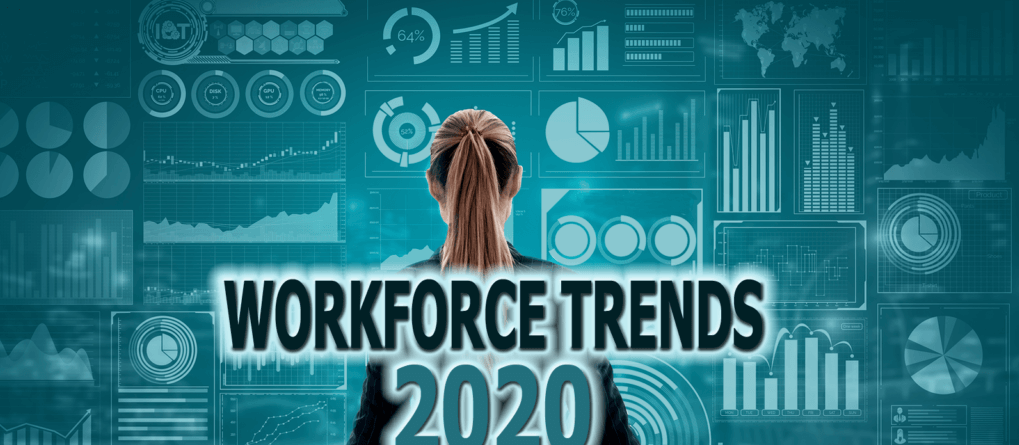 The future of work is a workplace that is driven by purpose and focused on people. Over the past few years, HR has evolved in its scope and functioning, seeking to align itself with the goals of an organization's workforce. This has gotten a further push from changes in:
Organizational functioning
Team management methods and styles
As the last year of the decade rolls on, HR needs to sharpen its focus on the human element of its job, to provide work experiences that truly engage the workforce. The following are the most important trends to watch:
The "employer" brand is in focus
It is no secret that the market for talent is highly competitive, with a number of companies seeking to pull in the few highly-skilled, talented people. Successfully persuading a candidate requires – among other things – a stellar reputation and strong branding for the company. Organizations will need to set themselves apart from others and market themselves as unique places to work.
The job application process must get better
A complicated, lengthy process of recruitment can be among the biggest turn-offs for potential hires to an organization, resulting in the serious cost of losing talented people. HR will need to streamline and speed up the process so that it is completed faster and more efficiently. Right from the initial screening of applications to the interviews, everything must work cohesively.
Workplace culture is important
The news in recent months has seen more than its fair share of toxic environments and harassment at the workplace. Creating a healthy culture for the workforce is important, and organizations need to take a variety of measures ranging from enforcing policies on workplace conduct to creating a balanced work-life schedule. Workplace communication needs to become transparent and employees need safe and respectable work environments.
Diversity and inclusivity are essential
The past two years (2018-2019) have seen major upheavals at the workplace in matters of race and age. According to the Diversity & Inclusion Study 2019 by Glassdoor, 49% of working adults in the US, the UK, France, and Germany faced some form of discrimination at the workplace. Bias or partiality on any such issue has no place in a progressive organization, and there must be a clear policy of zero tolerance towards such discrimination.
Analytics is critical for decision-making
Big data analysis has been shown to be beneficial for all aspects of an organization. People analytics, a data-driven approach to HR, can help to unearth valuable insights on employee performance, satisfaction, productivity, and motivation. Technology solutions bring recruitment data, employee statistics, performance KPIs and other data, and proper analysis allows smarter decisions.
Employees need holistic health benefits
Workplace stress has a huge impact on the overall engagement and wellbeing of the workforce. Companies will need to address all aspects of health and wellness care, ranging from mind and body components to include financial wellness and personal coaching. Holistic benefits plans and programs bring improvements in employee recruitment, retention, and productivity.
Workplaces and work styles must be flexible
Another core theme in recent times has been flexibility in the workplace. A large part of the pool of future workers will be from Gen Z, a generation brought up in the digital world where a connected device is a workplace, entertainment source, and more. Companies have come to realize that productivity is boosted when people can customize their work environments as per their preferences, as long as they achieve work goals. Employers will need to adjust company policies to incorporate work from home, remote work, and other options.
There has to be a work-life balance
Burnout was recognized as an occupational phenomenon in 2019, and employers need to establish healthy boundaries between work and life. There is a need for better policies on work hours as well as frequent one-on-one check-ins with management so that employees can give due attention to their family life and other non-work aspects.
The company must engage and retain its people
Employees treated well by a company make for satisfied workers. They are engaged at work and are easy to retain when they get:
The opportunity to progress
A commitment to social change
Feedback and close observation are essentials toward these goals so that the company can properly cater to the needs of its people.
Upskilling is a must
New technologies and innovations in the workplace bring the need to keep up with rapid changes and growing expectations of the workforce. Organizations must train and skill their employees so that they are ready and driven for the future of work. This will also equip them to take on senior roles and make their way up their career ladders, which is, in turn, beneficial for organizational growth.
Millennials and Gen Zs are entering the leadership
The end of the previous decade had millennials taking on leadership roles and Gen Z joining the pool of workers. This digital-savvy and independent cohort brings a lot of changes to the workplace with their thoughts on diversity, equality, innovation, and care. As leaders, managers, and team members, they will shape how organizations function and strategize.
Social responsibility needs to be on corporate agendas
People are becoming more socially conscious and increasingly look for employers who share the same thought process. For instance, climate change and sustainability bring the desire for eco-friendly practices in the company culture. Organizations must use their voice and take a stand to value purpose and demonstrate their commitment to the cause.
Certification is a must
For someone working in HR, it is becoming essential to pick one of the best HR certifications. Apart from providing skills in people analytics and other domains in demand, this also prepares HR personnel to take on more senior roles and grow in their careers.
Education