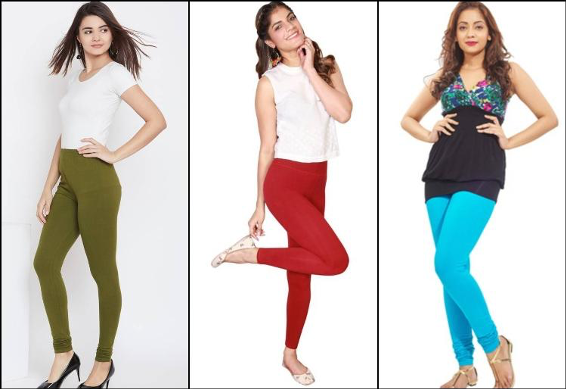 Wearing leggings can have several advantages over wearing denim, jeggings, or shorts. Let me list down eight reasons why wearing leggings are better than any other type of pants.
Leggings are Comfortable
Comfort is the numero uno reason for wearing leggings. These pants are made with stretchy materials, and they fit a person's leg snugly. Leggings are lightweight. When you wear leggings, you will not feel any extra weight. Also, legging pants will give you extreme comfort and flexibility.bottom wear Unlink jeans; you will not be restricted wearing these pants. You can walk, skip, hop, and jump comfortably in a pair of leggings bottoms wear.
Versatile Wear
Leggings are versatile wear. One of the main perks why I own more than a dozen pairs of leggings is because these bottoms wear to go with everything. You can sport a tank top, a regular sleeve top or a kurta easily with leggings.
Colours and Styles Galore
If you are looking for the best styles and variety, then look no further than leggings. This bottoms wear is available in a number of colours and styles. You will get three-quarter leggings, full-length leggings, and in many cases, leggings of varying fittings too. There are over a dozen colours available. So, if you are searching for the perfect bottom wear to go with your favourite top, then look for leggings. I promise you will look wonderful.
Best Attire for Working Out
Working out can require you to stretch your body in many ways. Leggings are the best attire for working out. I highly recommend buying a pair of good leggings if you hit the gym often. I promise leggings will not betray you by giving others a peek of you (you know what I mean!). They don't slip. Wearing the wrong attire to the gym might result in pulling up your pants every ten minutes. With leggings, you can be sure that your pants will stay in place while you sweat at the gym!
Perfect for Lazy days
As girls, we have our lazy days when we don't feel like getting up in the morning and dressing up like a fashionista. On days you feel a bit lazy, you can simply slip on a pair of leggings bottoms wear and walk out of the door. Leggings are a cool attire that you can wear in all informal places. It is especially suitable for college girls who like keeping this casual. Just pair leggings with your favourite shirt or kurta, and you are ready!
Flatter Your Legs
The curves in your legs are augmented by leggings. They flatter the shape of your legs and make you look amazing no matter what you team it up with.
Perfect Stretchy Pants!
Gaining and losing a few pounds every now and then is a common thing in the lives of college girls. If you buy leggings, you will not have to invest in bottoms wear every time you gain or lose weight. Leggings stretch, they will suit you even when you have put on a little bit of weight.
All-Weather Wear
Leggings are perfect for all seasons fashion. You can flaunt a pair of leggings in the rain, summer, and autumn. And if you do not like in a very cold state, then you can wear a pair of leggings during winters too. It is the perfect bottoms to wear that you can wear anytime, anywhere. 
Fashion