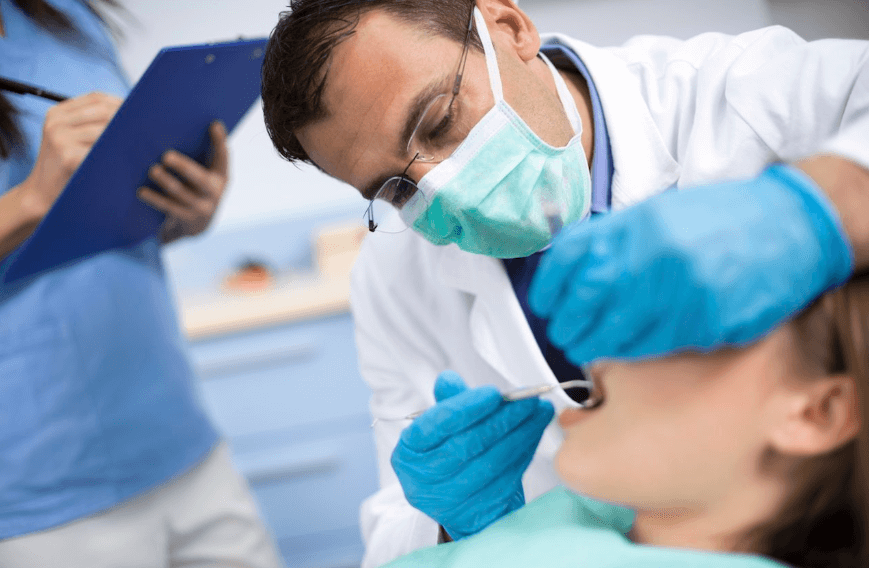 DR. DEAN SALO
Dr. Dean Salo passionately believes cosmetic dentistry is an act of art. He has been mentored by well-known dentistry leaders including Dr. Michael Pikos and Dr. John Kois. Dr. Dean has completed various training at The Dawson Academy and Las Vegas Institute for Advanced Dental Studies. Being a perfectionist with each of his patients, he focuses on providing a natural look and feels the design on his restorations.
In 1989, he graduated as the youngest student in his class with a Bachelor of Science degree in Biochemistry. Dr. Dean, one of the best Cedars Sinai Dentist, graduated at 24 with a DDS from the University of Pacific's Arthur A. Dugoni School of Dentistry.
DR. RENATE GANGEL
Dr. Renate Gangel graduated in 1986 from the Herman Ostrow School of Dentistry of USC. Her career in dentistry derives from her excellence in patient care. Dr. Renate has widespread knowledge of dentistry, not only limited to cosmetic restorations, prosthetics, but also creations, and routine care.
She uses digital x-ray diagnoses, which helps her patients avoid high levels of radiation and helps her give a better diagnosis. Additionally, Dr. Gangel has trained and is certified in the use of soft tissue lasers.
DR. SAMANTHA BESSER
Many are shocked to learn that Dr. Besser is a U.S. Air Force honorary officer. He spent 5 years, providing dental care to our troops both abroad and at home.
Dr. Samantha studied at the University of California, Santa Barbara then transferred to Tufts University School of Dental Medicine in Boston. There, she received her DMD degree. Once she earned her DMD degree, Dr. Samantha Besser served as a Dental Officer in the U.S. Air Force.
DR. AFSHIN SALAMAT
Dr. Afshin Salamati earned his DDS in 1996 from UCLA. After, he continued his education at UCLA and specialized in dental implant surgery and periodontics, where he earned his MS degree in 1999.
Dr. Salamati kick-started a dental practice in 2003 in Beverly Hills, and since then has maintained his dental implants and periodontics private practice. After graduating, Dr. Afshin also teaches at UCLA. While attending UCLA, Dr. Afshin Salamati participated in multiple clinical and laboratory trials.
DR. GARY LANDA
Dr. Gary Landa is an Oral and Maxillofacial Surgeon. Upon the receipts of his DMD degree from UCLA's School of Dentistry and his MD degree from UCLA David Geffen School of Medicine, he completed a year-long General Surgery internship at the UCLA Ronald Reagan Medical Center during his Oral and Maxillofacial Surgery training at Cedars Sinai Dentist.
Dr. Landa gained interest in Oral and Maxillofacial Surgery while studying Physiological Science at UCLA. Dr. Gary's experience, although he had been planning on applying to dental schools, kick-started his Oral and Maxillofacial Surgery career.
Dr. Gary has all-inclusive experience with dentoalveolar surgery including pre-prosthetic and orthodontic surgeries, placement of dental implants, extraction of wisdom teeth, etc.
DR. ALEX BRANDON
Dr. Alex Brandon is the son of an orthodontist. While in high school, he started his dental training in Seattle by assisting his father. At the University of San Francisco is where Dr. Alex began his dental academic career, and then later earned his DDS degree. After earning his degree, he graduated from Columbia University's orthodontic program in 1996.
He builds his procedures on establishing functional bite, placing TMJ in a natural position, and improving dental and facial esthetics. For Dr. Brandon to provide the best treatment possible, he thoroughly evaluates his patients' dental health, stresses the importance of practicing proper oral hygiene through the prevention of cavities and the maintenance of healthy gums.
DR. ANDREW H. CHEN
Dr. Andrew Chen graduated with his DDS Degree in 1992 from The University of Southern California. He completed his 2-year residency program of anesthesiology in 1994 from the University of Pittsburgh. He is a member of multiple professional societies and organizations, including the American Dental Board of Anesthesiology, the National Dental Board of Anesthesiology. Dr. Chen has also earned a FADSA and is an Advanced Cardiac Life Support Instructor for the American Heart Association.
Health